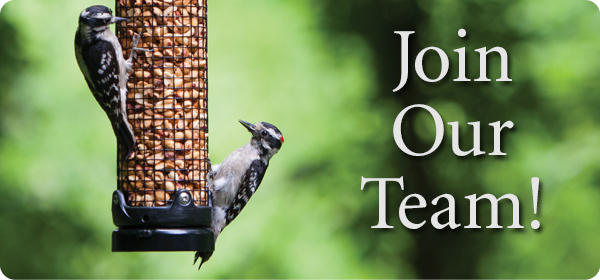 Are you our next great employee?
The difference between Wild Birds Unlimited and other retailers goes far beyond what we sell. It's who we are. Enthusiasm, professionalism, informed advice and superior customer service are the hallmarks of our staff.
Working at your locally owned Wild Birds Unlimited store is an opportunity to support and educate our friendly customers about birds and nature.
Our Sales Associates work with other staff, including the owner, to bring to life the store's mission – "We Bring People and Nature Together®…And We Do It With Excellence!" To that end, we provide training with regard to backyard bird feeding, bird watching, and product knowledge.
Requirements:
Previous retail experience preferred, but not required.
Ability to lift and carry seed up to 50lbs for our customers – a foundation of our service!
Must be self-motivated with an "eye" for what needs to be done.
Will consider part-time applications that meet the needs of the business, but a flexible schedule and the ability to work weekends are required.
Our goal is to provide quality products, service, expertise and a high energy shopping experience.
Help customers bring nature into their own backyards and lives.
Other duties include but are not limited to: ordering product, accurately checking in deliveries, unloading deliveries (including seed trucks), bagging seed, pricing and restocking merchandise, ringing transactions on cash register, completing accurate and legible paperwork
If this sounds like the job for you, please download and print an application. Paper applications are also available in-store.
Please bring completed applications into our store. We would love to meet you!
Click here to download application.