Bring Gold To Your Yard - Goldifnches That Is!
It's time to go for the gold in your own backyard!
All you need is an finch feeder and a few pounds of Nyjer® (thistle) seed or the WBU Finch Blend to bring the gold to your backyard - Goldfinches that is!
Goldfinches live throughout the United States and southern Canada, a fact that makes attracting them to your backyard a bit easier.
In July and August, after the male has serenaded the female with canary-like songs, goldfinches begin their nesting season. The location of the nest is usually five to 10 feet high in trees or shrubs and often near a water source.
But you can't talk about goldfinches without mentioning their favorite food, Nyjer®. In fact, it's one reason goldfinches delay breeding until the greatest number of thistle, dandelion and other composite flowers are seeding.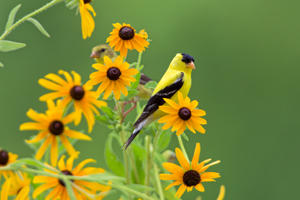 But that's good news for you!
This delay gives you the opportunity to focus your attention on goldfinches during this exciting time of song and activity (especially since other birds can be less active and busy with their new families).
Goldfinches love to eat fresh, dry Nyjer® (thistle). They also enjoy sunflower chips, so try our Finch Blend. Make sure you have plenty on hand at your house to take advantage of one of the most exciting times of the year to feed birds...it's a sure bet for winning nature's gold medal!
Visit us soon to get everything you need to bring the glorius American Goldfinch to your backyard!
Our Summer Goldfinch sales is on, with Nyjer, Finch Blend and Finch Feeders all on sale through Saturday Aug 23, 2014.!
Attract American goldfinches this August by adding Nyjer (thistle) to Your Backyard Menu in a WBU Quick Clean Finch Feeder!
Advisory for Hummingbirds!
Millions of hummingbirds have started their southward migration, and providing hummingbird feeders to help them along their way is more critical than ever this year.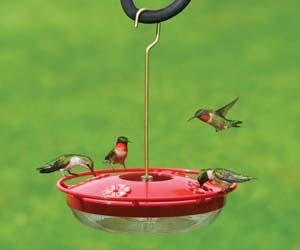 You can help by offering a nectar solution placed in a specially-designed hummingbird feeder, such as the WBU High-Perch Hummingbird Feeder. It features a high perch that allows hummingbirds to comfortably rest, providing you with better, longer views of the birds. The feeder has a clear bottom that allows you to see hummingbirds' tongues lap up nectar (up to 12 times a second) as well as the level of the nectar solution. The High Perch Hummingbird Feeder has a red cover that is highly attractive to hummingbirds, comes with a built-in ant moat to deter crawling bugs from reaching the nectar solution and it has ports that keep rain water from diluting the nectar solution. It's easy to fill, clean (top shelf dishwasher safe) and hang, and it's backed with a lifetime guarantee.
The simple recipe for a yummy hummingbird nectar solution is mixing four parts of water to one part of common table sugar. We advise against adding red food coloring. Instead, pour the clear nectar solution into a red-colored feeder. Trt the NEW Feeder Fresh "Nectar Defender". Natural and safe protects your nectar longer and keeps it fresh.
Multiple feeders will help to minimized squabbles and reduce crowding.
At this time each year, the migrating waves of hummingbirds that visit our feeders provide the most spectacular viewing opportunity of the season. During the peak of migration, bird banding studies indicate that, with very few exceptions, the hummingbirds that visit feeders on any given late-summer day are completely replaced by a new set of migrants every 24 hours.
Research has also discovered that for every 10 individual hummingbirds you see at you feeder at one time, you will actually have about 50 hummingbirds pass through your yard on that same day. And this year, it is likely to be a higher number as the reduced amount of natural nectar sources drives more migrants towards feeders to re-fuel.